e-workshop 01:
Architectural Hat
Creating a Hat with a whole city on it! …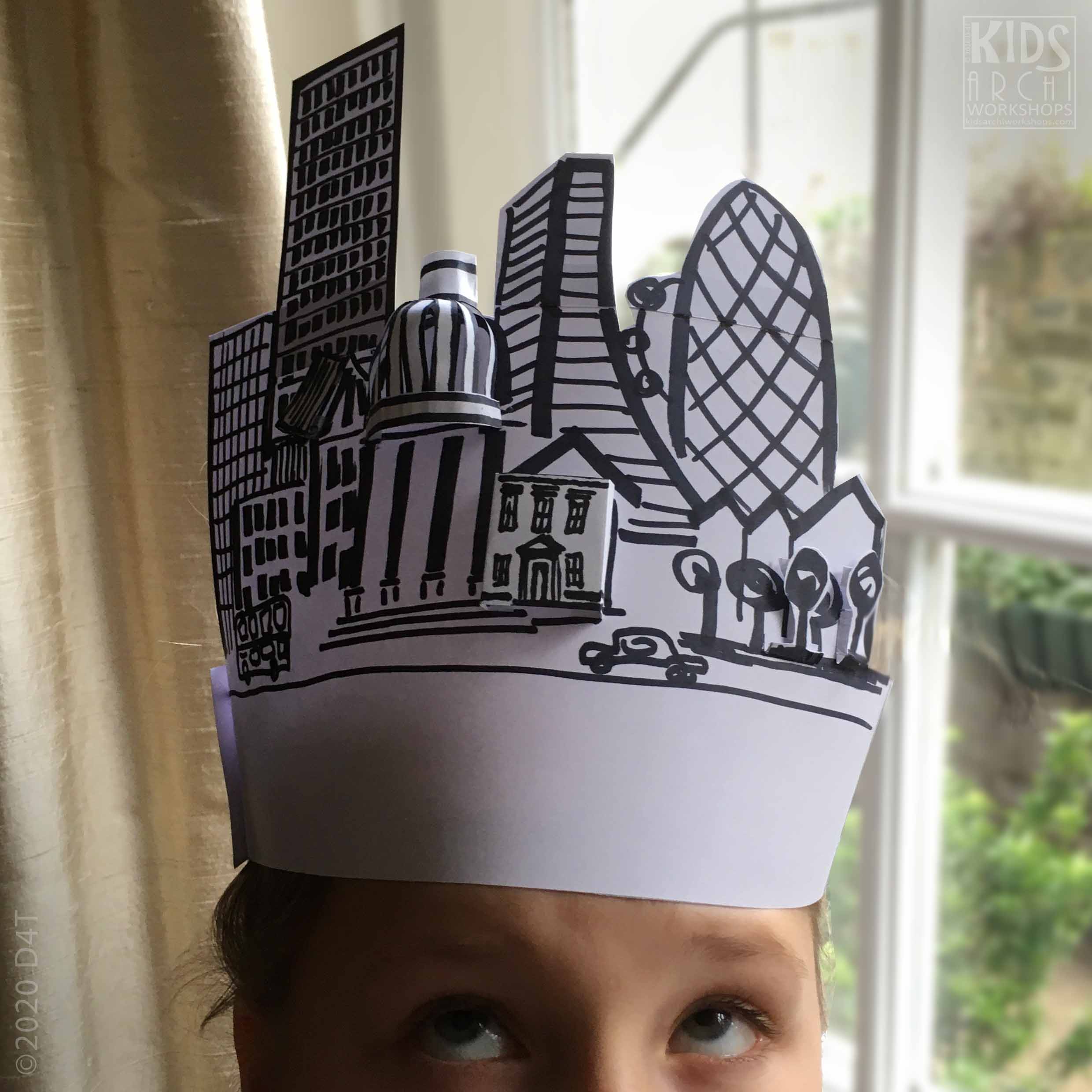 Due to current situation of COVID-19 Lockdown and social distancing regulations we have created our own  virtual reality and had first Zoom session of Kids Archi Workshops!
Topic: Architectural Hats 
Thanks everyone who managed to join us! It was a bit more challenging than face-to-face class, but we have achieved some fantastic designs, based mostly on London.
Kids have created great hats, with skylines of the capital, including some of the city's landmarks, like The Gherkin, Tower Bridge, London Eye and many more.
Some panoramas were just drawn around the hat, some were 3D and some even had moving parts: a rotating London Eye!!!
We can now start a new fashion trends for the spring and summer!
Architectural Hat – simpler design,
difficulty: easy 
You can have a look at the photos and download the templates with the schematics, by clicking on the buttons below the pictures. 
Each prints on  A4 paper, preferably (80-100 g/m2).
Happy making!
Next Tuesday we will be making:
Architectural Cap – a bit more challenging,
difficulty: medium
For instructions visit:
http://kidsarchiworkshops.com/architecture-on-a-hat/
As discussed with the children last session, they can add any design to their caps!* I'm attaching few ideas 
*It could also be a Space Hat, Animal Hat, Garden Hat…   
The possibilities are endless and can be adapted to the age and ideas of young creators.
#be-creative, #stayathome
Dominika
Feedback
Please let me know what you think about this project, maybe send some pictures …
🙂
Snaps from the Zoom e-workshop
Instructions and Templates: